CMP manufactures tote handling systems to perform a variety of tote manipulation including dumping, cleaning, stacking and unstacking. In combination with our conveyance systems CMP is able to offer end to end material handling solutions for your food processing facility. With experience designing, fabricating and installing tote handling systems for numerous industries, the CMP tote handling solutions lead the pack with some of the most innovative, high-calibre solutions on the market. We've compiled a short list of why food processing clients choose CMP tote handling system over all others.
Experience - CMP has been manufacturing hygienic food processing equipment for over 60 years! Over the course of those 6 + decades we've gained significant knowledge about manipulating, stacking, destacking, dumping, washing and storing totes and bins of every shape and size. Our designers have engineered solutions for every industry from vegetables to poultry and from berries to potatoes. Regardless of the product you're moving and how you need to move it, we can design a solution for it. We continue to innovate with new solutions which save our clients time and money.
Customization - We set ourselves apart from other OEMs by customizing our tote handling systems to solve your processing issues and meet your food processing needs. Our tote dumpers, barrel dumpers and tote handling systems are customized for each unique project ensuring production goals are met. Our Project Managers conduct site visits to your facility to ensure the tote handling system we're designing will work with your existing equipment. Whether you need to increase efficiencies, streamline transitions, or automate processes for your facility, we have the engineering capacity to customize your food safety and material handling solution.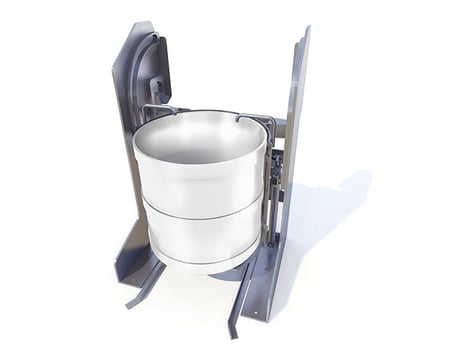 Integration of full systems - Combining our tote handling systems with our conveyance systems enable totes to move through your food processing facility automatically. Conveyance and tote systems working together reduce the amount of labour required to move totes from one location to another, increasing efficiencies and throughput, and reducing operation costs. With extensive experience in material handling, we can manage product from the raw receiving to packaging and everywhere in between.
Hygienic Design - Food safety is our number one priority when designing, fabrication and installing our products. Our highly trained engineering and fabrication teams ensure the principles of hygienic design and applied to all equipment regardless of which area in the plant it will be located. We pride ourselves on providing not only the most robust, but the most hygienic equipment on the market. Our equipment is constructed with food grade materials, is easy to clean and free from harbourage points, keeping your food and customers safe.
Install - Our work doesn't end when we ship equipment from our facility. We offer installation and commissioning services to ensure our equipment is installed accurately and running as intended with your existing equipment. A Project Manager will oversee the installation of your equipment with the support of our dedicated installation crew. Forget about hiring subcontractors, or struggling to troubleshoot on your own, we won't leave your facility until you're 100% satisfied with the installation and performance of your equipment.
Reliability - We value the trust our clients put in us, it's how we've stayed the course for over 60 years in the food processing equipment industry. Our large service and installation team along with the partnership we have with global leader FPS (food Process Solutions) enables us to provide dependable service, hygienic solutions and innovative designs to our clients no matter the geographic location.
When it's time to upgrade your existing equipment, or you're looking for a more efficient way to do things within your plant, get in touch with a member of the CMP Technical Sales team. We're here to provide you with innovative solutions, one hygienic design at a time.