Regardless of the holiday food your facility is processing , whether it's meat and poultry, berries, or potatoes, ensuring products remain free from contaminants are a holiday wish for all processors. An increase in demand for certain products during this time of year can lead to processors straying from their normal hygienic practices due to time, staff, or capacity constraints. This could allow sneaky contaminants to make their way into your processing lines. Stay vigilant about your hygienic processes and keep food safe during the holidays by following these few simple tips.
Get your new equipment before the rush - If you want to update your processing facility with new hygienically designed food processing equipment in time for the holiday reach out to CMP early in the year to ensure its installed before the holiday rush. Our hygienic food processing solutions will get your through the holidays (and all year long) worry and bacteria free.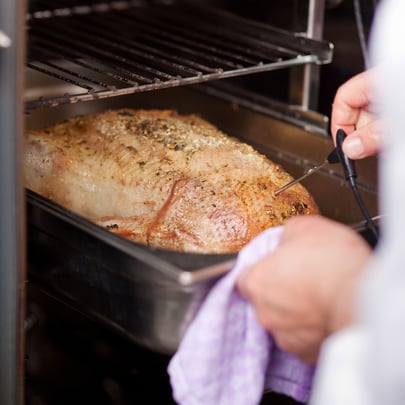 Continue to follow your regular cleaning and maintenance schedule - It's easy to think a shut down of equipment for cleaning will make you fall behind your production schedule, but sticking to your regular cleaning schedule could mean the difference between safe food, and contaminated food for families over the holidays. Don't skimp on the cleaning procedure you've put in place just because you're busier than usual. CMP's hygienically designed processing equipment is easy to clean, limiting the amount of down time required so you can get back to processing your products in no time.
Keep employees motivated - Many food recalls can be traced back to employees errors. Whether that is from employees feeling rushed to meet deadlines or quotas, or exhausted from putting in overtime hours, keeping your employees motivated to stick to hygienic protocols can be the difference between a recall free holiday, and a holiday nightmare. Ensure your employees keep food safety as their top priority, even during the rush, and reward those who deserve recognition.
The busy season is not the time to make major changes - Has your processing facility always remained contaminant free? The holidays are not the time to change something that isn't broken. Trying to implement new protocols or procedures while your facility is at peak processing is a recipe for disaster. Wait until the new year when the demand for product his died down before trying to implement changes to your processes.
Test, test, and retest - An increase in consumer demand will have a additional products coming through your processing facility. With an increase in products, your testing and sampling should also be increased. The more frequently testing is conducted the quicker a contamination will be found if present.
By following these simple tips, and working with a Hygienic Design Specialist from CMP you are sure to get through the holiday rush without a food recall, making it happy and healthy holiday for all.