Depending on which shellfish product you're processing and how much, the type of equipment required for your facility will vary. The best way to know exactly what you need is to speak with a member of our Technical Sales team. Our team is well versed in determining needs for specific shellfish products or full processing lines from fish to crab and everything in between.
In this blog we're discussing some of our most popular shellfish processing equipment to help you determine what you need for your shellfish processing facility.
1. Atmospheric Steam Cooker and Cooler - Steam cooking has been on an upward trend with shellfish processors around the globe. It is a great way to efficiently cook your product while maintaining a consistent temperature. CMP manufactures atmospheric steam cookers that accommodate loose or batched products. These cookers can be designed with multiple belts for cooking various grades of product, cooking different parts at one time, or using different recipes. Our cooling system has many different options to quickly cool the product, preserving texture and flavor.
2. Shellfish Stunner - Now more than ever, the end consumer is more connected to their food, how it's processed and where it comes from. Consumers want to know that your process is food-safe and as humane as possible. CMP manufactures a shellfish stunner that allows you to humanely breakdown and process shellfish.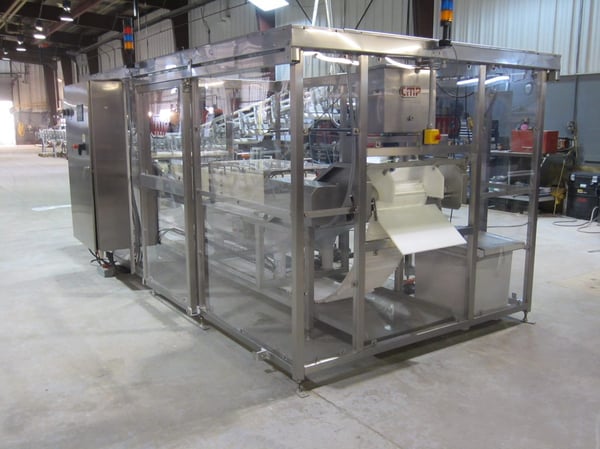 3. Continuous Batch Cooker and Chiller line - An efficient solution to cooking and chilling your seafood, CMP combines the two products batch cooker and batch chiller into one efficient line. This combination typically leads to increased efficiency and less downtime between systems, giving your processing facility a processing advantage over singular batch systems.
4. Butchering Tables - A butchering table is a staple product in just about every shellfish processing facility. The butchering tables can be customized to accommodate your production rate, stations, and sorting requirements. Whether it's lobster, snow crab, rock/jonah crab, or red crab, we can design a table that makes your process as efficient as possible. Made using food grade stainless steel and plastic belts, these tables are hygienically designed for seafood processing.
5. Crab Salad Meat Line - A turn-key line for crab processing facilities. This processing line will do everything from chop the shelled bodies of shellfish to separating the shells from the meat, to finally moving the product on to dewatering to prepare the meat for packaging. The CMP crab salad meat line is the go-to piece of seafood processing equipment for meat extraction.
6. Sanitary Systems - This is not a single piece of equipment but rather, the most important part of what CMP provides customers. It can be a set of conveyors connecting & further automating your process or any of the above products. Above all, hygienic design and ease of cleaning is paramount in our equipment. You have spent countless resources ensuring that the RTE (ready-to-eat) area of your plant is compliant in food safety: proper separation, fresh booties, fresh hairnet, different lab coat, etc.. why wouldn't you make sure you have the best equipment to keep food safe.
While these products are some of the most common in shellfish processing facilities, the products we offer are vast. Speaking with a member of our Technical Sales team will help assess your needs for seafood processing. We're always happy to help you find a hygienic and efficient solution for seafood processing.