Every year food processing companies face employee injuries, workers compensation claims, employee lost time, and in rare circumstances, even employee death. Many of the situations that cause workplace injuries could have been prevented with proper education, training, equipment design, and an overall organizational commitment to workplace safety.
Equipment operators may not even realize the processing equipment they're operating is unsafe or they don't feel able to speak out about concerns they have regarding potential equipment dangers. In an environment that doesn't promote workplace safety the presence of unsafe equipment is ignored and often only brought to management's attention when it's too late.
Many occupational injuries seem to happen in an instant and without warning, while others are brought on gradually as a result of repetitive movements. Repeatedly moving incorrectly can lead to pain and strain on our bodies over time. An employee may be at higher risk of this type of injury if there is a poor ergonomic set-up at the piece of equipment they're stationed at. Injury can also occur from overreaching, twisting or lifting products improperly from awkward places like from a high shelf or from the floor. If employees are continually lifting boxes, totes or products from the floor or a high shelf, an injury is likely to occur. During our needs assessment phase we examine why those boxes are on the floor in the first place and from there, we engineer a solution that makes the boxes or totes more accessible, eliminating the potential for workplace injury.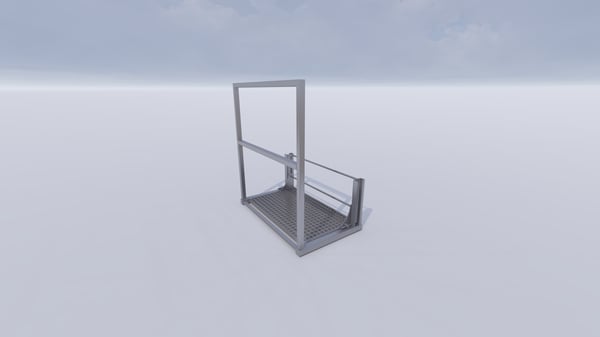 Ergonomic design for food processing facilities is important to worker health and safety because using equipment for long periods of time that does not suit your body's size and/or ability can lead to a workplace injury. CMP works with food processors to ensure equipment designed for food processing facilities is safe for operators, maintenance personnel, and others within the processing facility. With the needs and safety of your staff in mind, we ergonomically design and manufacture our equipment to best prevent injury caused by over extension, bending, pulling or repetition. Our goal is to create solutions that do not hinder production rates, are economical, and designed for safe operation.
Some of the key features we can design into your equipment to prevent worker injury include:
Motor guards
Automatic kill switches
Adjustable ergonomic stands
Elimination of sharp edges
Do you have a piece of equipment that has raised safety concerns in the past or has already caused an injury? We can assess your current equipment to determine what modifications are required. If you have a piece of equipment that is not ergonomic, talk to us about modifying it with ergonomic stands and alternatives to meet your safety requirements. CMP is committed not only to keeping food safe, but also to keeping your staff safe. Safety is always a top priority in the design of our food processing equipment. So if you're looking for an ergonomic piece of equipment to prevent your workers from becoming injured, get in touch with a member of our Technical Sales team today. We're always happy to discuss a new project or an existing piece of equipment that will ensure your food and your staff remain safe.