You might not know exactly what an OEM (original equipment manufacturer) is or how the experience of working with one differs from shopping online or in brick and mortar retail. OEMs typically sell their products in a B2B model to either the end user, or to another company who might mark up the product and resell it, either as a package with other equipment or with some other type of value add. CMP is an OEM typically selling direct to the end user, the food processor. There are many benefits of working directly with an OEM like CMP when you're building a new facility, adding new equipment, or upgrading your current equipment. We broke down some of the top reasons to work with an original equipment manufacturer like CMP the next time you're looking for food processing equipment.
1. Engineered Solutions - When you work with a OEM like CMP you have the support and expertise of a large engineering design team at your fingertips. Our designers customize solutions for the food processing industry's toughest problems and build equipment that delivers results for your specific needs. Have a processing conundrum? Bring it to our team of highly experienced engineers and we'll devise a solution that will provide you with the exceptional results you're looking for, problem solved.
2. Hygienic Design Expertise - Our mandate is to provide our clients with hygienically designed food processing equipment that keeps food safe. You can trust that our skilled design teams are working not only to to make your equipment the most hygienic but the most efficient too. We're up to date on the hygienic design principles for each industry we serve, and if there's a more hygienic way to do something, we know about it.
3. Cost Savings are passed on to you - We cut the middle man out, removing that inevitable markup is typical of retail equipment. Our products go from our manufacturing facility to your processing facility with no retail stop in between. Clients get the best price on the market for our custom products by coming straight to the source. Have a budget? Talk to us about it and we'll work with you to find ways to save money without sacrificing quality or design.
4. Responsiveness - Working directly with the people who are designing and manufacturing your equipment means questions, concerns and status updates are answered in a timely manner and with first hand knowledge of your project. We keep you informed at every stage, seeking client approval at various phases.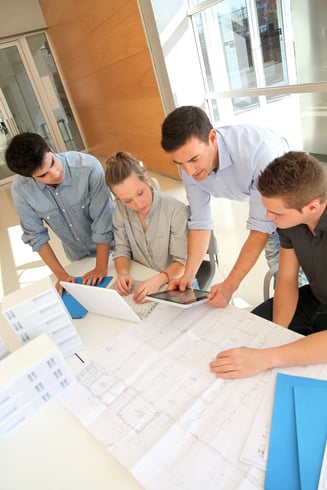 4. Quality Work - OEMs have oversight into everything that happens throughout the process of designing and manufacturing your food processing equipment. From idea conception, to commissioning on site, our team of skilled and dedicated staff are there to ensure quality and hygiene are top of mind throughout the entire process. Our commitment to hygienic design means weld and design quality take priority over all else and we're there to monitor it all.
5. Quality materials - We work with leaders in the industry who share the same commitment to hygienic design that we do. We ensure our belts are food grade and sanitary and that our stainless steel is high quality. If it doesn't meet our standards when it comes into our facility, it won't leave on any equipment we manufacture.
6. F.A.Ts (Factory Acceptance Tests) - Have you ever ordered a piece of equipment with the highest expectations and been let down when it didn't perform, or meet your quality expectations? When you're working with CMP you can request a factory acceptance test where we'll run your product through the equipment to ensure it is performing exactly how it should.
7. Ongoing Support - The benefit of having your equipment manufactured by CMP is our project managers, installation teams and the designers who worked on your project are available to you for ongoing support at any time. Our purchasing and parts managers know exactly what components went into your equipment making part replacement easy whether it's two months or two years down the road. Our team is there to offer ongoing support for all of our equipment and the clients who depend on them.
When the next opportunity arises to choose between an off the shelf product or a custom designed piece of equipment developed and delivered by an OEM like CMP, consider the reasons why so many choose CMP to provide engineered solutions. Get in touch with a member of our Technical Sales team to discuss your next hygienically designed project with us.